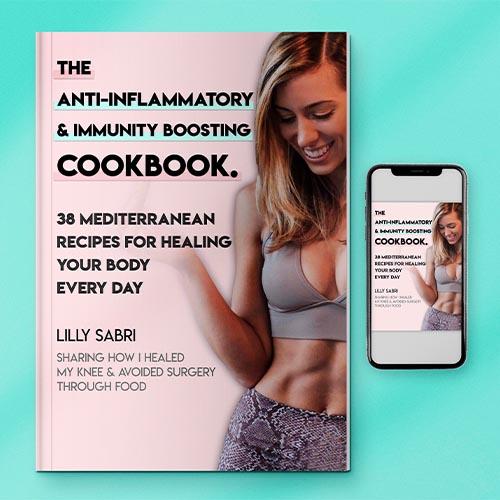 The Anti-Inflammatory & Immunity Boosting Cookbook
Shipping calculated at checkout
Quantity
From fighting the dreaded bloat and inflamed skin/acne, to healing your gut and injuries, decreasing inflammation and boosting your immune system are absolutely key.
Whether you're after recipes to help you fight bloat, heal from injuries, calm inflamed skin or repair your gut, what you eat is absolutely key -- and inflammation is at the heart of it all.
This Anti-Inflammation & Immunity Boosting Cookbook eBook contains 38 recipes to help you calm the inflammation in your body and heal from the inside out. On top of that, these recipes contain many of the key ingredients that help to boost your immune system.
These are the foods that author Lilly Sabri eats on a daily basis. They contributed to her healing after a major knee injury, avoiding surgery when there was just a 1-2% chance.
The Mediterranean diet is widely known and recommended by health professionals.
Author Lilly Sabri was raised eating and cooking a Mediterranean diet, with hours spent in the kitchen learning from her Cypriot father and family. In this book she shares her secret yet simple family recipes to help you live a healthier and happier lifestyle.
This eBook contains:
5 Breakfast & Smoothies
10 Lunches
10 Dinners
8 Snacks
5 Sauces and Dressings